CD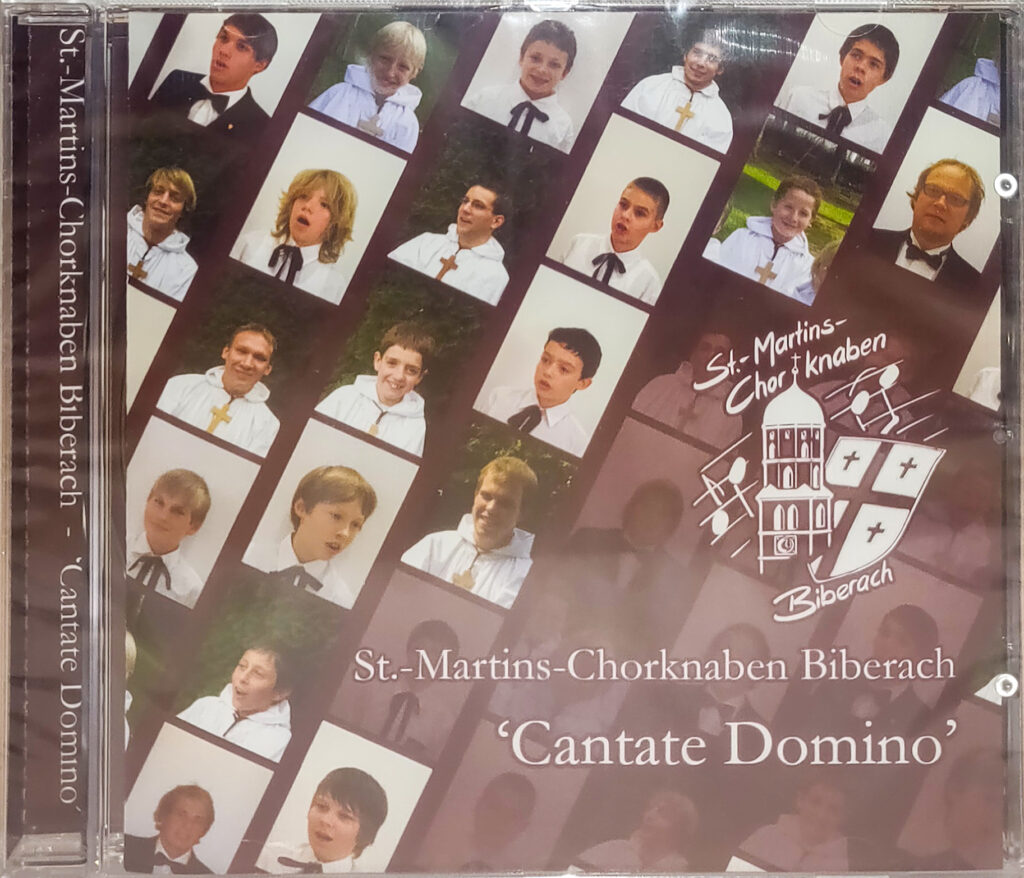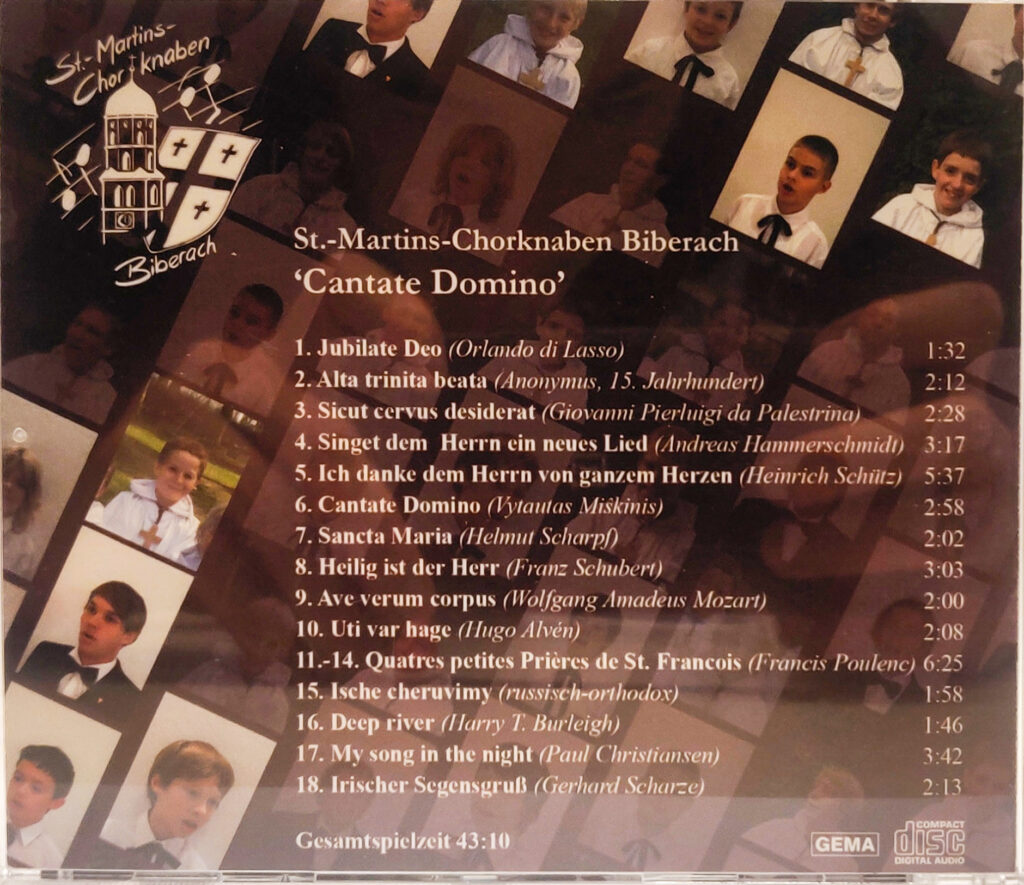 The concert hall for home. Including the choirboys. And everything so small that it fits comfortably in the CD player. So you can bring the unmistakable sound of the Biberach St. Martin's Boys Choir into your home. 14€
St.-Martins-Chorknaben Biberach
'Cantate Domino'
Jubilate Deo (Orlando di Lasso)
Alta trinita beata (Anonymous, 15. Jahrhundert)
Sicut cervus desiderat (Giovanni Pierluigi da Palestrina)
Singet dem Herrn ein neues Lied (Andreas Hammerschmidt)
Ich danke dem Herrn von ganzem Herzen (Heinrich Schütz)
Cantate Domino (Vytautas Miskinis)
Sancta Maria (Helmut Scharpf)
Heilig ist der Herr (Franz Schubert)
Ave verum corpus (Wolfgang Amadeus Mozart)
Uti var hage (Hugo Alven)
Quatres petites Prieres de St. Francois: I (Francis Poulenc)
Quatres petites Prieres de St. Francois: II (Francis Poulenc)
Quatres petites Prieres de St. Francois: III (Francis Poulenc)
Quatres petites Prieres de St. Francois: IV (Francis Poulenc)
Ische cheruvimy (russisch-orthodox)
My song in the night (Harry T. Burleigh)
Irischer Segensgruß (Gerhard Scharze)
DVD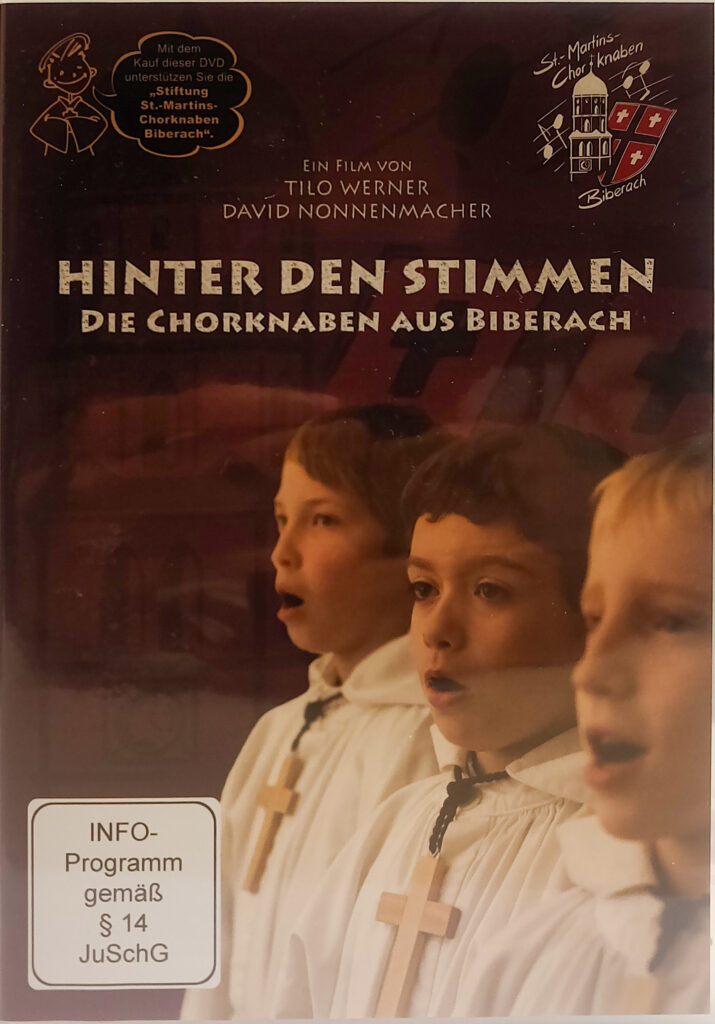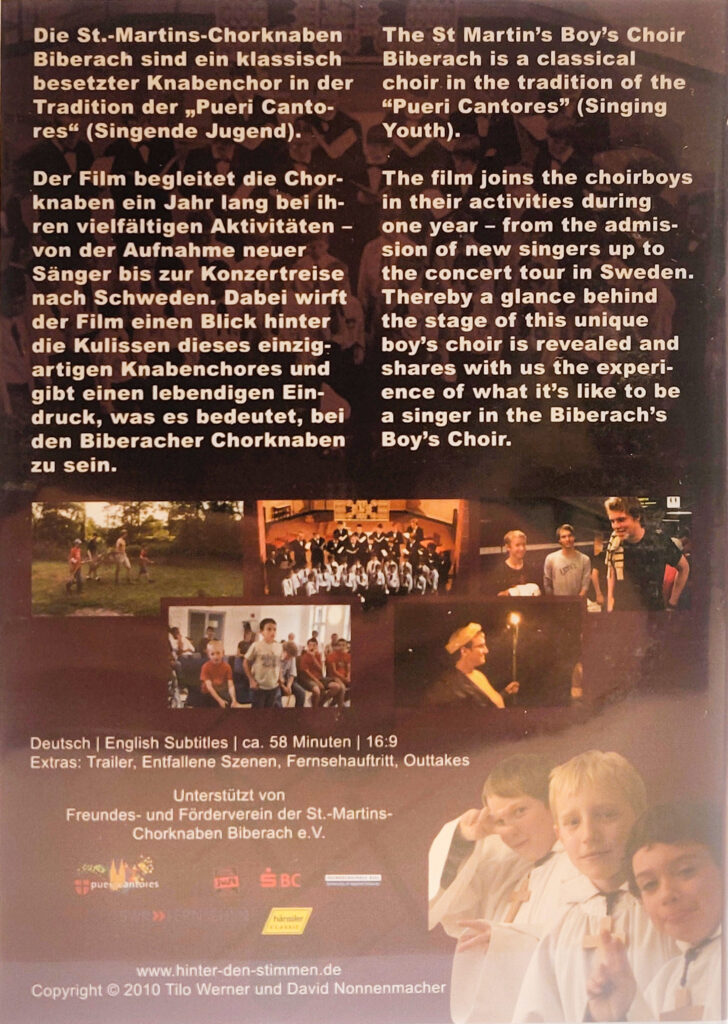 Yes, we actually have a film. A cinema film, which was also shown at the Biberach Film Festival 2010, and caused enthusiasm among the audience. For one year, the camera team – former singers – accompanied the choir and thus provides intimate insights into the everyday life of the choir. With fun and some familiar faces, this film is a must-see for any St. Martin's Choir Boys fan. And what is not can still become after this film. So let this full-length entertainment, well, entertain you. 15€
The choirboys from Biberach
'Behind the voices'
Singing boys are something special, especially when they are choir boys. Wearing liturgical robes, they regularly perform Holy Mass – and thus maintain a centuries-old tradition. But singing boys are also ordinary boys who like to play soccer or tell each other scary stories around the campfire. For one year, two former singers accompanied the St. Martin's choir boys with their camera during their various activities – from the admission of new singers to the concert tour to Sweden. The result is a film that not only shows the public performances, but also looks behind the scenes of this unique boys' choir. In this way, the film gives a vivid impression of what it means to be with the Biberach Boys' Choir.
---
If you are interested, simply fill out the following form.
We will take care of your request as soon as possible.